Lead Coaches & Instructors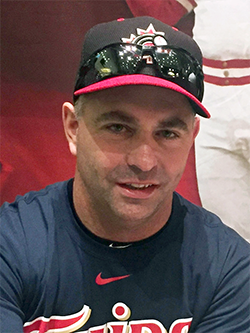 Program Director - Chris James
Chris has been involved in baseball in the Parkland area since 1998, and has been actively working in the area to bring the game to a new level, including leading the charge to merge Spruce Grove Minor Ball and Stony Plain Amateur Minor Ball.  He believes "it only makes sense to take the best of both programs to create a better program for the kids."
Chris' coaching career began in little league, where he coached from 1990-1994 while he was studying at college. Once his schooling was complete, he and his wife moved into the local area, and in 1996 Chris became involved at Spruce Grove Minor Ball, coaching teams in the Parkland area on and off since 1999.
Chris is currently under contract with Baseball Alberta as the Female Technical Director for the province. He has been to National championships and Western Championships as a coach 17 times. Most recently, Chris was the head coach of the 2019 14U Girls' Provincial team that won silver medal at the Peewee National Invitational. In addition, Chris was a member of the 2017 Canada Summer Games 17U male team that won a bronze medal in Winnipeg. In 2006, Chris became the first head coach of an Albertan team (male or female) to win a gold medal at a National Championship. Chris continues to develop athletes and has a great love for teaching the game.
"I am most proud of the number of players I have been able to work with that have gone on to play a level of rep ball. I am extremely blessed to have been a part of the White Sox, Royals and Twins programs. What makes me the proudest is in 2019 Parkland Twins operated the most amount of rep teams in the Province's history!"
Qualifications and Distinctions:
NCCP Master Learning Facilitator with Baseball Canada since 2004
NCCP Evaluator with Baseball Canada since 2007
Current Comp Development Certified since 2001 (Old level 3)
Currently working on Level 4 modules through the NCCP
Baseball Canada 2012 Grass Roots Coach of the Year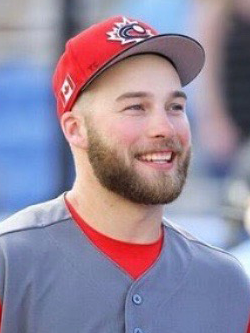 Head Coach / Technical Director - Shane Dawson
Shane Dawson was born in Fort McMurray, where he grew up playing minor ball until moving to Drayton Valley and eventually playing in the Parkland area. After winning the Western Canadian championships with the Spruce Grove White Sox, Shane advanced to the collegiate level, playing for the Prairie Baseball Academy out of Lethbridge, and eventually winning the CCBC championship, after which he was selected to join the all-conference team.
Shane's achievements caught the eye of the Toronto Blue Jays, and he was drafted to the team in the 17th round (535th overall), where he became the 29th best Blue Jays prospect in 2015, accumulating a 15-6 record and a 3.03 ERA. That same year, Shane won a gold medal in walk-off fashion with Team Canada at the Pan Am Games. In his last two years with the Blue Jays, Shane pitched 241.1 innings (including some against David Ortiz of the Boston Red Sox) and represented Canada at the World Baseball Classic. He finished his Blue Jays organization tenure with a 36-29 record and a 4.04 ERA over 505.2 innings pitched.
Shane has been coaching and operating academies over the past six years, starting as an instructor at ST.FX Baseball Academy during the off-season of his pro career, and most recently as the lead instructor at Strive Baseball Academy in Calgary, where he ran winter programs and coached the summer teams over the past three seasons, and as a member of the T12 Coaching staff. Shane also helped coach the Alberta women's team to a bronze medal at 2019 National Championship.
Shane has very quickly developed into a great instructor, and continues to put a ton of time and research into his development as a coach, forging strong connections with the young baseball players he teaches, keeping close ties with the baseball world and maintaining a work ethnic second to none.
For more information on the PMBA, please contact:
Chris James
Phone: 780-996-8719
Email: chrisjames@baseballalberta.com